Introduction
Health and safety management is a relatively young phenomenon established out of the industrial revolution. During this time the industry went from hand production to more complex production methodologies such as heavy machinery, chemical manufacturing, textile processing, and food processing. During this time there was no effort made to improve neither environmental issues nor where there any efforts made to implement health and safety standards for the existing workforce. During this period of history and the expanding economy a huge workforce was needed – these saw themselves mostly in harsh environments and there were no regulations to protect the workforce. After some major incidents (E.g. "Monongah Mine disaster in the US 1907″1) the US-government developed some agencies to improve labor safety (E.g. department of labor 1913- US). However, it took almost another 60 years until OSHA (Occupational Safety and Health Administration) was created in the US (28. April 1971 E.g. Wikipedia definition)2
Occupational Safety and Health Administration has the role of safeguarding the health of workers in their working environment. OSHA set laws and acts that all the industries in the United States have to adhere to. Failure to following these acts may lead to imprisonment or denial of a license to operate a business. The common role of OSHA is to ensure that new employees receive proper training on their new job position, undergo training on safety issues, offer to upgrade courses, and have a supervisor oversee the progress of the new employee. According to Mokdad et al. in March 2004, the causes of actual death in the United States are petty negligence in the industries. The administrations of industries in the United States are responsible for injuries and death of employees in their line of duty. All workers need to obtain a certificate from OSHA before employment to ensure successful training on health and safety in the working environment.3
In Europe, things were developed earlier. The Institute of Occupational Safety and Health was created in 1945. It was developed to create professional standards and give advice on health and safety issues. (E.g. IOSH).4 Health and Safety ensure that workers are protected at their workplaces thus preventing harm and accidents. Some activities like mining and loading of ships and fishing boats are risky adventures that require adequate protection. Others are steel, chemical, and loading industries; the emissions from the chemical industries are extremely harmful and can lead to loss of lives.
In addition, cement firms can cause asthmatic conditions for employees. Therefore, employers should ensure that the safety of their workers is paramount by following all the provisions of OHS acts (E.g. "Occupational health & safety"). The OHS act upholds a high level of the mental and physical well-being of workers when at the workstations. In addition, there are psychological and social issues such as bullying, work-related stress, sexual harassment, and burnout. These situations lead to a stressful life; it becomes dominant when the management postpones decision-making activities. Employees who are tasked with decision-making should ensure that they do it within the shortest time possible. This will help to avoid procrastination in decision-making. (E.g. National energy board) 5
HSSE background information
Globalization over the past decade has intensified and more and more organizations are spread across the globe. This went hand in hand with the development of new erudition and telecommunication technologies which changed how society runs leading to new & different management structures.
Health safety security and environmental management has new challenges in a globalized world focusing on a global standard. These challenges involve a series of work tragedies in oil refineries, coal mines, and fire explosions in industries. The death of workers is a major tragedy that, for over forty years, Health Safety Security and Environmental Management has been unable to eradicate. Illness in the workplace is another challenge that HSSE is facing. Workers become sick in the workplace before the end of their shift. The management of HSSE is surveying the working environment of the major industries to ensure workers have a spacious working environment with a good flow of fresh air in the room. To solve the challenge of illness and death in the workplace HSSE is ensuring every worker has a proper medical record that suits the working environment. Unfavorable health conditions, for example, asthmatic individuals, may get the advice of changing careers from working in a dusty environment like the cement industry to a dust-free occupation.6
An organization that fails to manage Health and Safety risks meeting more cost than getting it right at the initial stage. In Canada, the Canada Labour Code Part II (Canada Labour program)7 has set out policies and standards that give all departments the responsibility to manage their Health and Safety requirements (E.g. Health and safety boards)8. The employees must be able to access all information concerning health and safety. For that matter, the policies require employers to post such pieces of information inaccessible regions. It was the responsibility of the Health and Safety Committee to ensure that all departments comply with the requirements of the OHS at the workplace. Exposures in the fishing, transportation, metalworking, construction, lumber, aviation, and mining industries are exceptionally dangerous. For instance, in the United States, injuries from the construction industry were three times the injuries from all the remaining industries (E.g. International Labour Organization)9. In the agricultural sector, there are skin diseases, ear problems due to noise from machines, and certain cancers. Farmworkers can also get fatal injuries from tractor rollovers and drowning.
To mitigate these complications, industries should have a properly laid down safety policy and insurance policies like workers compensation. The construction industry, for instance, should use proper safety equipment to avert impending risks. Further, there should be clear health and safety regulations that the Construction Design Management Coordinator must ensure that all the workers follow. The OHS professionals ought to evaluate all working environments to certify if they conform to the required standards, inform employers to develop measures that will minimize injuries, and carry out OHS awareness among workers so that they can raise the alarm in case of disobedience by employers (E.g. IOSH UK)10. In OHS, risk assessment procedures include hazard identification, identification of those affected by the hazard and to what extent, evaluating the risk and, then, identifying and prioritizing control measures. This process is done in a practical manner. OHS remains an essential health concern since human beings must work to earn a living.
Labor standards
Labor standards ensure every worker gets the right working condition. The working conditions include a spacious working environment and good remuneration that will cater to essential goods and services. The safety of laborers lies in the hands of the employee and lack of a safe environment will result in a reduction in the work output. The workers will be working with a lot of caution in the workplace to avoid incidences of injury that may cause death or amputation. OSHA inspects all the workplace believing that the employee is observing the labor laws of the federal government. Violation of the safety act towards the employees may lead to a civil penalty of up to $70,000 for each violation. The federal government needs to reduce the expenses relating to the negligence of employers in the workplace. The congressmen realized there is the loss of wages, reduced production rate, increase in medical expenses, and disabilities in the workplace of many industries. The congressmen regularly revise the occupational laws to ensure the safety of laborers and reduction of losses to the nation.
In addition, the Labour Standards defines the general condition of occupational safety and health in the workplace. The objective in harmonizing this type of standard is to prevent 'social dumping' to prevent the comparative advantages that are derived from lower production costs at the expense of inferior working conditions in a company.
"Harmonization of these standards seeks to achieve social integration within the process of economic integration and liberalization, in such a way that the economic growth is accompanied by social progress"(E.g Nebosh training manual)11
The International Labour Organization (ILO) on its part has designed a system that promotes equality, freedom, and dignity across the workforce since 1919. Moreover, it has promoted gender equality by providing opportunities for both men and women (E.g ILO standards)12. The international labor standards have formulated a framework that ensures that global economic growth benefits all. The advent of globalization has made labor standards highly significant. The Philadelphia Declaration of 1944 recognized that labor is part of everyone's life; therefore, it is essential to the development and well-being of human beings. The Declaration altered the medieval perceptions of viewing labor as an object to a crucial factor of production. In addition, these standards have created an a-leveled playing field such that governments and employers cannot attempt to alter the labor standards.
Despite the good intentions of ILO, social dumping is still existent in a lot of countries, a very good example of this behavior are resent events happing between the USA and India – according to the Huffington post – The deadline to sign onto the Accord on Fire and Building Safety in Bangladesh passed on Tuesday, and at least 14 major North American retailers declined to participate 13(Bangladesh factory safety)
This shows that for some major organizations social dumping is still used to their advantage and the ILO is more of an idealistic agreement than an overall rule.
Product safety
Consumers need assurance from the government that the products they consume are safe and do not cause health complications. The United States Department of Labour in collaboration with the Occupation Safety & Health Administration developed Acts that safeguard consumer products. All manufacturers, labelers, distributors, and retailers have to work under the directions of the product safety and standard Act. Employees in these industries should not receive discrimination due to following the directives of the federal government. Consumers that get health complications due to the consumption of branded products have the right to receive compensation from the manufacturing company. Defective products released to the market may lead to legal penalties to distributors and manufacturers of the products. The laws and Acts under the jurisdiction of OSHA help to protect the consumer from receiving low quality and damaged products. The heavy fines from the law courts ensure the manufacturers and distributors to cross-check their products before releasing them to the final user.
As tariffs are eliminated or reduced, as it is currently occurring with the regional economic integration agreements and with the signing of multilateral trade agreements in the framework of the world trade organization (WTO), non-tariff barriers acquire more significance in international trade.
"People must be confident that the products they use, consume or simply come into contact with are safe and do not present any danger to their health and physical safety, therefore product safety standards are crucial"(E.g Nebosh training manual)14
Although OSH does not directly deal with environmental issues they will have a positive impact on the management of OSH as there is a link between the work environment and the environment in general.
In Australia, a product safety website guides consumers on the conditions that they should check in order to avoid illness and death that can result from unsafe products. Some of the acute diseases include diarrheal diseases and different cancerous diseases. These diseases have caused enormous threats to human lives until they have become a public health concern. The WHO through its vision and mission is helping the Member States to identify and prevent various causes of food-borne diseases. This program helps to ensure food safety from the production point to the final consumption point (E.g. ILO standards)15.In ensuring continuous food safety among the public, the WHO in 2010 launched a new resolution on food safety dubbed Advancing food safety initiatives. The resolution was to put a strategy that could survey foodborne diseases and efficient exchange of information among the Member States, especially the developing nations that have poor nutritional status. The initiative notes that product security has been a perennial problem in third world countries; therefore, food safety and nutrition should be essential in malnutrition and hunger eradication. Product safety requires risk assessment techniques in order to avoid numerous infections that come as a result of mishandling of foods.
What is the management system?
According to Nebosh workbook
"Management is the process of setting policy, organizing, controlling, monitoring and reviewing the effort of an organization and of using all other organizational resources to achieve stated goals"(E.g Nebosh training manual)16
Basically, a management system is a framework for your organization to enable it to achieve certain tasks or objectives.
For example – your organization has to build a house. Without a checklist, this would most likely end up in chaos. With an adequate management system, you would have to write a policy that specifies. (The policy is your business plan for managing a task.)
Problem Identifikation
Policy Formation
Adoption
Implementation
Evaluation
After writing the policy the work task will be executed.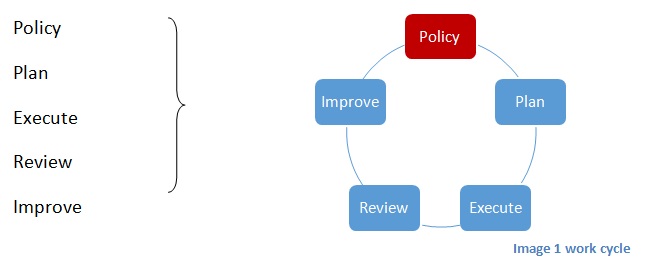 Once the task is completed the outcome will be reviewed. If there are some improvements in the work cycle this can be added or corrected into the policy and the cycle begins from start.
The most common management system in the industry is ISO 9001 (quality management) Lots of big corporations see ISO 9001 as a requirement for their supply companies and contracting organization.
"The ISO 9000 family of standards is related to quality management systems and designed to help organizations ensure that they meet the needs of customers and other stakeholders while meeting statutory and regulatory requirements related to content the product. The standards are published by ISO, the International Organization for Standardization, and available through National standards bodies."(E.g. definition Wikipedia) 17
However, the industry has adopted these management systems into the specialized fields of
Health & Safety ISO 18001
Security ISO 27001
Environment ISO 14001
Successful businesses work in unity towards achieving their vision. In the management process, they have to share information, engage in environmental forecasting and benchmarking, and even engage in teamwork. Management systems lay strategies that assist businesses to go through numerous challenges in the 21st century. If a business implements an effective management system, it will be able to promote innovation, manage its financial risks, raise customers' satisfaction, and reduce cost. Moreover, an environmental management system assists firms to improve their environmental performance.
Health & Safety
The definition of Health & safety according to ILO (International Labour Organization):
"Occupational health should aim at the promotion and maintenance of the highest degree of physical, mental and social well-being of workers in all occupations; the prevention amongst workers of departures from health caused by their working conditions; the protection of workers in their employment from risks resulting from factors adverse to health; the placing and maintenance of the worker in an occupational environment adapted to his physiological and psychological capabilities and; to summarize: the adaptation of work to man and of each man to his job."(E.g. ILO)18
Health and safety also promote the psychological and social well-being of workers – not only should every organization treat their workforce with respect but it is evident that a satisfied and well-treated workforce is more productive within an organization.
So as you can see Health and safety management deals with:
Protecting people from injury and ill health (both – employees and non-employees)
Psychological and social wellbeing (e.g., stress reduction)
Complying with a legal requirement
Managing health and safety in a cost-effective way to achieve business goals
To identify possible risks an easy tool can be used. The so-called Risk matrix(graphic page 23) – more of this will be explained in the Risk section.
Same as the ISO standard this will be integrated into a managing cycle (see Image 1 – management cycle)
Security
Management system faces the task of assessing security issues within the organization. The management team ensures they assess possible risk either physical or virtual. The challenging security risks to consider are financial securities, market prices, accidents, and natural disasters. The management system needs to develop a proposal of measures to consider in case of an unfortunate event. Developing an action plan helps in maximizing the opportunity cost and saving time in the situation of a calamity. In a situation of financial challenges, the organization needs to develop alternatives that will help in stabilizing the organization. The management system has to define the possible threats the company may experience and access the likelihood of occurrence. There will be also a discussion on the possible consequences of the threat and ways of reducing the risk. The implementation of the decision will be in accordance with triage and urgency.19
Although there is no "physical security standard" as such, ISO has developed an information security standard ISO 27000 what is a best practice recommendation on information & risk management.
"Organizations operating either in there conventional business settings and in new or unique environments will be presented with a wide scope of foreseeable and unforeseeable risks."(E.g. Mikel Blyth security management)20
Security management deals with Risks (Risk = Threat to an organization + Vulnerability + Impact on the organization)
Same as the ISO standard this will be integrated into a managing cycle (see Image 1 – management cycle) including prevention measures to keep the risk as low as possible.
Security Risks can include:
Nonphysical risks:

Commercial Espionage
Information Technology (Computer Virus, etc.)
Liability Risks (Employees seek compensation through the failure of the organization)
Physical risks: (especially in high-risk areas)
Armed attacks on facility's (BP in Algeria 2013)
Improvised explosive devises (Iraq from 2004-now)
Kidnapping (South America, Somalia, Nigeria, etc.)

Environmental:
Following the success of the ISO 9001 (international organization of standardization) (9001 –quality standard), the ISO has developed a series of environmental management standards (ISO 14000).
"Environmental Management offers research and opinions on use and conservation of natural resources, protection of habitats and control of hazards, spanning the field of applied ecology without regard to traditional disciplinary boundaries (E.g. Environmental management)21"
In most industries such as mining or oil & gas, environmental damage is huge and can result in repairable damages to nature. Environmental management tries to keep these damages to a minimum regarding the country-specific regulations or the organization's policy. In cases where the country's regulations are lax or not existent, most organizations tend to use their own policies (usually these have a high standard) to avoid a bad reputation by the press, etc.
Environmental risks can include:
Reducing oil spill
Waste management
Drilling mud disposal
Hydrocarbon contaminated wastewater
Water dry out areas
CO2 emissions
Environmental protection involves practices that human beings can institute to lower environmental degradation. The current environmental challenges like global warming, water pollution, and massive soil erosion. Human activities like improper land usage can lead to soil erosion; for instance, continuous soil tillage and plowing across the contours facilitate soil runoff (E.g. Canadian national energy board)22. In addition, cutting down of trees in the environment exposes soil to wind, thus removing the top fertile soil. When this happens, crop productivity also goes down thereby setting up food insecurity. On the other front, lack of forest will lead to low rainfall in that area since there will be no rainfall catchment region.
According to Mckinsey – the oil and natural gas industry is directly responsible for 6 percent of global CO2 emissions. These companies are under constant regulatory and reputational pressure to reduce both upstream and downstream CO2 emissions, and in the coming years they will increasingly be expected to provide solutions and make investments.23(Mckinsey)
Define Risk & Hazards
Hazard
A Hazard is anything that has the potential to cause harm. (E.g. chemicals, electricity)
For example
a container of gasoline is a hazard
Smoking next to the container would be a risk
These physical hazards are the major causes of death in the workplace. Prior training on hazard awareness can help reduce such incidences in the workplace. Moreover, the employer and employees can participate in identifying extra hazards in reference to the activities, equipment, and materials in the organization. The occurrence of a hazard helps the management develop safety strategies for managing a similar hazard from occurring. To prevent a hazard from occurring, workers in many industrial companies have to wear personal protective equipment. For example, in the case of spillage of chemicals or gasoline, the worker is safe. The equipment, procedures, and materials in the industry are the major factors causing hazards. Movable parts in the industry, hot surfaces, chemicals, sharp edges are dangerous to the employees. OSHA has a handful of precautious measures to minimize these hazards to the employees of the industry.
Risk
Risk, in its definition, varies from one context to another. For example, in insurance, it refers to the probability of a variable happening, but the time is not known, such as fire catching up a building. In securities markets, the risk is attributed to the loss in value or drop in value. Furthermore, when you go to the workplace, risk refers to the consequence of a probability that a phenomenon or an event that is hazardous is to happen. And in the food industry, it refers to a certain hazard inherent with the food that will have a certain negative effect on a given measure. When all these definitions are put together, and in line with organizations, is that, the risk is the probability of a specific occurrence happening that reduces the value, reputation, or outcome of an organization.
In other words, the risk is a measure of uncertainty to which an organization is exposed in every decision-making process. Statistically, it is the amount of harm that is probable to happen in a given time period following a specific harm event. The probability or threat of quantifiable damage, injury, liability, loss, or any other negative occurrence that is caused by external or internal vulnerabilities, and that may be avoided through preemptive action.24(Wikipedia)
Risk matrix
The risk matrix fulfills the purpose of categorizing, ranking, and quantifying risks. This can help to identify which risks are most prevalent in terms of likelihood, impact, and countermeasures effectiveness. It also provides an easy way to be incorporated into the HASP or HSSE plan.
Risk matrices exist in various contexts such as NASA, ISO, US DoD. However, organizations and individual undertakings may need to make their own existing matrix to suit their situations or needs.
A Risk Matrix is a matrix that is used during Risk Assessment to define the various levels of risk as to the product of the harm probability categories and harm severity categories. This is a simple mechanism to increase the visibility of risks and assist management decision making.25(E.g Wikipedia)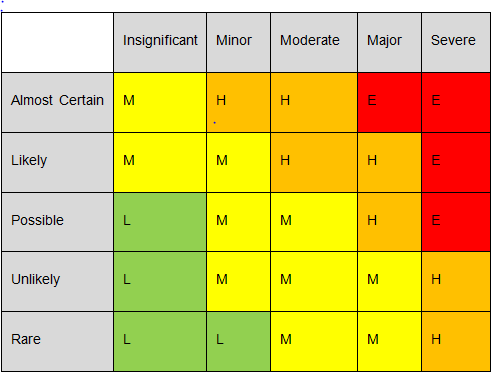 The x-axis of the matrix represents the severity of the risk, varying from insignificant, minor, moderate, major, and severe. The Y-axis represents the probability of the risk severity occurring, and varies from "certain", "likely", "possible", "unlikely", and "rare".
Of importance to note is that in the chances of the risk occurring, low probabilities normally may not be considered as they are unreliable.
Auditing
"The general definition of an audit is an evaluation of a person, organization, system, process, enterprise, project or product. The term most commonly refers to audits in accounting, internal auditing, and government auditing, but similar concepts also exist in project management, quality management, water management, and energy conservation"26(E.g. definition Wikipedia)
For example, the origin of environmental auditing can be traced from the beginning of 1970 in Western Europe and the USA. Health and safety audit assess risk and contingency planning to prevent hazards in the environment (E.g. Scottish natural heritage)27. Auditing entails statistical verification that occurs within a given period following relevant environmental legislation.
In particular, environmental auditing exists to serve the following crucial functions:
To implement adopted global responsibilities as well as conventions that ensure environmental protection.
To implement national environmental programs plus the allocation of public funds aimed at providing the remedy of the consequences of the problems in the environment.
To define and put in clear terms what it means by environmental legislations.
To create effective and efficient control mechanisms regarding the implementation of national environmental policies as well as legislations.
Finally, to ensure economic use and efficient utilization of public funds and consequently lead to a reduction of damaging consequences. This will also ensure that central governments as well as local environmental programs are implemented in a wholesome.
Environmental auditing has been in existence since the 1970s as companies adopted it for one reason: to reduce the harmful consequences of companies' actions which has effects on the environment. As more awareness was created since then, and an understanding of various environmental issues, the supreme audit institutions (SAIs) were created. The main purpose of these institutions was to recognize the roles of states (key roles) and defining the appropriate measures for minimizing damaging consequences towards the environment.
In fact, the SAIs introduced environmental auditing for efficient and effective problem solving regarding environments. And this has even been introduced pushed to organizations in the public sector. Environmental auditing in the public sector is wide, independent, and has the following assessment objectives:
Governmental implementation of global agreements on environmental protection.
Efficient control over the implementation of the national legislation leading to protection as well as the preservation of the environment.
Provision of proper utilization of public funds for the assessment as well as solving problems in the environment.
The complete and suitable organizational framework for the efficient preservation and protection of the environment.
Environmental auditing around the world is done by the SAIs. They have made the auditing part of their regular work. Indeed, in some nations in the world, environmental audits have been made mandatory and hence an obligation. The SAIs have been effective in carrying out their duties and are focused on ensuring a protected environment worldwide.
Research
For research reasons 6 individuals who all work in higher management within the HSE field (HSE corporate management or HSE project consultants) mainly in the oil and gas or mining sector were sent questionnaires. The reasons the questionnaires were sent via email and not conducted as interviews were that most of the interview partners were on duty in rural areas (Guinea, Iraq, Australian outback's) and the lack of internet communication did not allow (for example) a Skype conference. However, it turned out that sending the questionnaire via email made it easier to understand and analyze the answers given. Surprisingly each individual's answer had similarities, even though all of them worked in different countries/continents. (The full questionnaires can be found in the ANNEX)
The Interviewees
| | | | |
| --- | --- | --- | --- |
| Name: | Job title: | Company: | Country |
| Nick K. | HSEQ manager | Oil Serve | Iraq |
| Isabella G. | HSE project manager | Golder | Guinea |
| Christoph M. | Captain Austrian Special forces | Austrian military | Austria |
| Stefan S. | HSSE consultant | Montana HSSE | MENA area |
| Andreas H. | HSSE consultant | Control Risks | Dubai |
| Tony S. | HSSE project manager | Add energy | Australia |
The Questions
What are the reasons a company or organization should develop an HSSE system?
The main reasons were explained as the moral necessity of the organization and furthermore a cost-saving factor.
Christoph M. answered: "To establish and maintain standards in the field of health and safety, which should lead to a safe and secure environment. This leads further to more job satisfaction for the employees and through minimized accidents and security related issues to reduced costs."
How seriously does your company take HSSE and how do they try to implement their HSSE management system. (How do they incorporate their "HSSE work culture")?
All interviewees said that their organization takes HSSE very seriously.
Nick K. answered:
"Oilserv Senior Management takes the implementation of it HSSE management program very seriously. They demonstrate this by providing strong, visible leadership and commitment, personal involvement, and ensures that this commitment is translated into the necessary resources, to develop, operate and maintain attain the policies and strategic objectives. "
What are the responsibilities of the HSSE manager in your organization? How much support does he have from executive management?
The responsibilities of the HSSE managers vary in different organizations or are simply not existent e.g. Christophe M. answers: "There is no such position as an HSSE manager as solely person. The different tasks are distributed to people, who have related fields of work and are therefore responsible for implementing and keeping the standard up to date. Additionally every leader of a detachment is responsible, that the HSSE measures are maintained and so they normally have a big interest that their responsible employees are working correctly."
To compare with the answer of Stefan S.: "The HSE manager is responsible for i) Strategy across the organization, ii) Setting policies and broad objectives, iii) allocating resources, iv) approving plans and procedures, v) create detailed plans to achieve broad objectives, vi) institute programs & procedures to ensure safe systems of work, vii) communication & consultations with supervisors and workforce & receive and implement feedback.
The HSE manager has the full support of the top management as they are well aware of the benefits of a sound HSSE system."
However, all seem to have full support from top management.
Does the workforce benefit from your companies HSSE system? If yes – how?
All interviewees out of the private industries said that it definitely has a benefit for the workforce. However, Christophe M. who is an officer in the Special Forces said that even if it is beneficial in a real-time scenario within his working field it is often not possible to work under given rules and regulations.
E.g. Andreas H. said: "Certainly. The system and the actively lived values create an atmosphere of trust and mutual care. I am confident that this improves the overall working culture."
Christophe M.: "Partly the workforce benefits from the HSSE system but often there are standards set which are not workable under real live conditions (e.g.: time and resources) or consequences for the whole company are set due to the misacting of a single person."
Can your organization benefit financially from such a system? (Directly or indirectly) If yes – how?
All interviewees said that it is a given that an organization can benefit financially from an HSSE system. However, Andreas H. said "Such things are very difficult to express in figures, because incidents which are treated upfront will never happen. Maybe this is the biggest challenge HSSE departments face across all industries."
What is the main difficulty's when it comes to implementation of an HSSE management system?
These answers came as surprise as it was expected that the main difficulties were the commitment of top management and the financial costs of implementation. However, it seems that it is not only management that seems to have problems with such a system:
In comparison Andreas H.: "People are very often reluctant to new things, especially when confronted with additional work out of their scope."
Or Nick K.: "Change management and cultural challenges basically underpin the challenges associated with a HSSE system. These typically include management not having enough time or providing the necessary commitment or support or not having the tools available to measure the successful implementation of the system."
Are there differences in the financial implications of HSSE in different countries where your company is operating? (Think of man-hours, labor laws, and legal requirements)
There was no straight forward answer to this question. Some interviewees said that there is a difference in labor code in various countries others such as Tony S. said: "The requirements are virtually universal no matter what country you are working."
Out of your view – is there an ethical need to implement or sustain an HSSE system?
All interviewees agreed that there is an ethical need for such a system. Isabella G. stated: "Definitely! Where ever the work is being done, there should always be a concern for the safety of the workers, local populations and the environment. And its a good thing that International Financial Institution are making this an obligation in order to loan money for big projects. "
In general – What impact does HSSE have on companies in regards to gaining new contracts and towards competition?
All interviewees out of the commercial sector answered that having a good HSSE system was an important part when it comes to getting new contracts. Nick K. who is partly responsible within Oil Serve answered: "HSSE plays a significant part in the tendering process and currently positioned in a way to help sell. HSSE generally carry out 10 percent weight in a tender."
Andreas H: stated: "Certain procedures are required by law and overachieving goals is often a differentiating factor in going through a tendering process."
Out of your view – Are there economic advantages/disadvantages if a globalized HSSE standard becomes mandatory across the globe?
All interviewees said that this could be a good thing – However, due to different laws, this standard would most likely be very generic. Next to that, some countries could not afford the implementation of such standards E.g. Christoph M.:" Global standards would be a high value ideal to achieve if we would live in a perfect world. The truth is, we live in the real world and globalized standards would mean different costs in different countries and are not achievable in the near future. You just have to compare the costs for a waste management system in continental Europe and in the middle of Africa. If two companies working in these two regions have to maintain the same standards the price for the same product could never be comparable (besides the difference of the salaries)."
Why is HSSE important for an organization?
Risk varies depending on what work environment or surrounding an organization has. From a small business with mainly office work with no health and safety requirements up to the oil and gas industry or the mining industry with a huge requirement of a health and safety system and professionals.
HSSE has a commitment to ensuring employee safety and environmental protection. The management team of organizations has major roles in ensuring the employees are comfortable in their workplace. The management also ensures the waste products from the industry do not pollute the environment. To ensure sterility of waste products from the industry, the organization invests in a filtration process that ensures all the waste products from the industry are safe. Frequent workshops, open forums, and seminars are helpful in communicating the message of safety to employers and employees. The training from the HSSE team aims to improve the performance of the organization in terms of production output, risk assessment, and safety of the environment and workers. Everybody in the organization is responsible for maintaining safety and prevention of environmental pollution. Moreover, the HSSE team teaches the set of Laws and Acts regarding employee safety and environmental conservation.28
It is important within an organization that management gives a clear direction towards HSSE and that enough resources are available for implementation. During my research, I have interviewed 10 health and safety professionals and asked "What are the reasons a company or organization should develop an HSSE system?" Every single one of them replied that it was of high importance to develop such a system. Mrs. Isabella G. what was the Environmental Advisor on a large scale project in Africa said: "To work for any big mining company, such as Rio Tinto, a company (subcontractor) has to have an H&S plan and an Environmental Management Plan in respect with the work that will be conducted. An HSE system, kind of provides the company with a license to work as it considers H&S issues of workers and local communities and environmental issues. It also sends a positive message to its employees in the sense that the company cares for issues beyond pure business and it is investing time and resources to develop this system."29
Other interviewees concur with Isabelle G. that HSSE is important. In summary, the points raised by other interviewees are as follows:
The cost of safety failure at work: system prevention at the workplace ensures that there are fewer accidents and diseases in the workplace. Safety should not come by accident, and hence most accidents cannot happen if prevented.
Hazards at work: any business engagement attracts one form of hazard or the other, which may damage someone's health. This is because all work exposes people to hazards that are of varying nature such as stress, loads, psychological torture, toxic chemicals, and electricity among others.
Underlying principles: it is important to pay attention to health and safety not just because they care about social responsibility but because they make good business sense. This should be regarded as an important achievement as any other key business objective.
Possible problems a company can face while implementing an HSSE system
As implementing any new system into a working environment also HSSE management has its challenges during the initial phase of implementation and furthermore maintaining it.
Implementing HSSE System in an organization may face a problem of rejection. The managerial team has to find tactful means of introducing a new concept in the organization. HSSE System may require frequent monitoring to ensure that all the workers are complying with the new system and may result in the withdrawal of potential workers in the organization. The government policy and Acts may prevent full implementation of the HSSE System since it requires government approval. The training and awareness forums may consume a lot of time leading to a reduction in the work output of the organization. In addition, the workers will be extra careful in working under the new policy resulting in to decrease in productivity. Other possible challenges are planning and control of the new HSSE System; it may lead to an increase in production cost due to running two programs simultaneously.
According to Chris Jackson, national chairman of NASHiCS (E.g.Guide2 care)30 when asked what are the main difficulties with HSE he answered that NASHICS conducted a study and the outcome was that 20.9% of the HSE professionals stated that the commitment of employees was the number one issue. This can be backed by the research conducted as most of the attendees stated something similar to Andreas Hartinger "People are very often reluctant to new things, especially when confronted with additional work out of their scope."31
However, this was not the only finding according to the NASHICS report.
Chris Jackson stated "First, that employee attitude problems rate so high in comparison with possibly more obviously 'fixable' problems such as operational processes and skills training. This suggests possible weaknesses in both recruitment processes and people management and a need for further questioning of the efficiency of these systems.
'Second, there appears to be an information gap in many organizations, where senior management is not receiving appropriate frontline reports regarding health and safety incidents. Not only that, but a further finding is that less than a fifth (17.9%) of CEO´s/directors are involved in back to the floor visits, again suggesting that they may be lacking knowledge of the 'real' situation and are relying on reports which are short of important details.
'Third, although the figure is just 8%, that a significant number of professionals find health and safety policy confusing. This is a concern given the emphasis that the Health and Safety Executive has recently put into providing guidance. Additionallyrespondent comments supporting the ranking of fire safety as top concern indicate that this is a major area of confusion."32(E.g. Interview Chris Jackson)
How to implement an HSSE management system
Implementing a Health and safety management system is not always an easy task, especially when the company that wants it to be implemented has old bad habits.
The ultimate responsibility for health and safety rests with top management. One person should be appointed within top management who will eventually be held responsible for its implementation and enforcement within the whole organization.
The appointed person should have defined roles, responsibilities, and authority for the following points.
Ensure that H&S management system requirements are established, implemented, and maintained.
Ensure that all reports on the performance of the H&S management system are presented to top management for review and improvement (E.g. Nebosh training manual)33
All those with management responsibility should demonstrate their commitment to the continual improvement of H&S performance. This should also be made public to be read by each employee or customer.
A good H&S mission statement should give everyone the feeling that the company is really motivated to commit to the H&S values.
"The mission statement announces exactly where you are going and the values describe the behaviors that will get you there" (Winning by Jack Welch)34
Management has to provide resources essential for implementation such as Human resources, specialized skills, and technical equipment.
This is a general example of how to implement an H&S plan. The following list was found and modified from the web page "safety risk". (E.g. Safety risk standards)35
Global Health and Safety Policy
It is essential to communicate the HSE policy around the entire company and it has to be backed by high and mid-level management to make it successful. Should the company use contractors working under the company's rules and regulations the policy should be implemented by the use of a bridging document forcing the HSE "best practice" on each party.
(A policy is a principle or rule to guide decisions and achieve rational outcomes. A policy is a statement of intent and is implemented as a procedure or protocol (E.g. Wikipedia)36)
Health and Safety Planning Methodology
In accordance with the HSE policy, a working document called the HASP (Health and safety plan) should be implemented – the HASP is an action plan on how to face HSE problems in compliance with the policy
The HASP has to be communicated to all employees and management.
Hazard Identification Risk Assessment and Control
In addition to the HASP, it would be advisable to produce a Level 2 risk plan what identifies all potential hazards and risks the company can face during their operations.
This Risk plan should also be communicated to all employees to give them a better understanding of the potential hazards and risks their work tasks might have.
Legal and Other Requirements
The company should operate strictly under the required jurisdictions of the country the company is operating in. However, should the company work in one or more country's it should use the jurisdictions of the country with the strictest rules – this will guarantee the highest possible standard for a global organization.
Health and Safety Responsibilities and Accountabilities
All responsibilities in regards to health and safety have to be communicated to all employees including mid and top management and have to be enforced with zero tolerance to make it as effective as possible. It is highly important that management follows the rules and regulations.
"Incorporate health and safety responsibilities into all position descriptions and as part of the organization's performance review process37" (E.g. safety risk standards).
Training and Competency
Identify the required Health and safety training for employees they require for their work tasks.
Incorporate internal and external (where needed) training to comply with the HASP.
Employee, Contractor, and Visitor Induction
All employees and contractors have to comply with the Health and safety policy and Health and safety plan (HASP). To communicate this best method is to develop induction programs to make sure everyone is aware of the Health and safety requirements.
For people visiting the site, it is significant to communicate emergency management and first-aid arrangements. It is also of importance to show the facilities exits and assembly points in case of an emergency.
When visitors access the site the company should have a sign in the procedure so it is clear during an emergency how many people are on site.
Issue Resolution Process
All employees and contractors must understand how the company deals with issues and how for example an incident is handled.
Health and Safety Reporting
A reporting system and timeframe when a report has to be completed should be developed and implemented
Communicate to all employees the requirements for reporting all incidents.
Job Hazard Analysis
All employees should understand the necessity and structure of a JHA.
All employees and contractors should be briefed and trained on how to identify hazards and how to use the information on a JHA.
Develop a central registry where all completed JHAs are to be filed.
Workplace Inspections
Inspections should be held according to the HASP and a reporting tool should be implemented to improve worksites.
Depending on the location and size of the worksites nominated staff should be trained or direct inspectors should be hired to inspect, check the work locations – e.g. hazard identification, risk assessment, and risk control.
Hazard Reporting
Communicate to employees the hazard reporting process.
Emergency Management and Preparedness
All emergency management SOP´s have to be reviewed this includes medical emergency management fire management security incident management.
Personal has to be trained on the procedures stated in the sops. If possible try a full training exercise including top management.
Contractor Management Process
"Review the tender process and incorporate specific health and safety clauses/requirements into the tender process.
Develop a process to evaluate health and safety plans, risk assessments, safe operating procedures submitted by contractors prior to the commencement of works.
Review and consolidate the contractor management guidelines.
Develop a contractor audit program (both for Construction and Operations and Maintenance) which includes site safety walks, spot audits of JSAs, and health and safety plan implementation audits.
Train appropriate managers in contractor management." (E.g Safety & risk standards)38.
Workplace Environmental Monitoring
The work environment has to be reviewed and where necessary changed into the requirements of the environment plan
Incident Investigation, Corrective and Preventative Action
All incidents have to be reported. This has to be understood over the entire organization (this incl. Near misses, incidents, and possible improvements to make work safer).
A reporting management tool should be implemented – this can be fold cards, an online system, etc.).
Management has to understand the steps they have to take once an incident was reported.
Appropriately train managers in incident investigation techniques.
Health and Safety Management System Audits
Develop and implement an internal health and safety management system audit program.
Train nominated staff in audit techniques. (E.g safety & risk )39
Management Review
On an annual basis, top management should be involved in the review process and should be given all relevant information (incident reports, new requirements, etc.)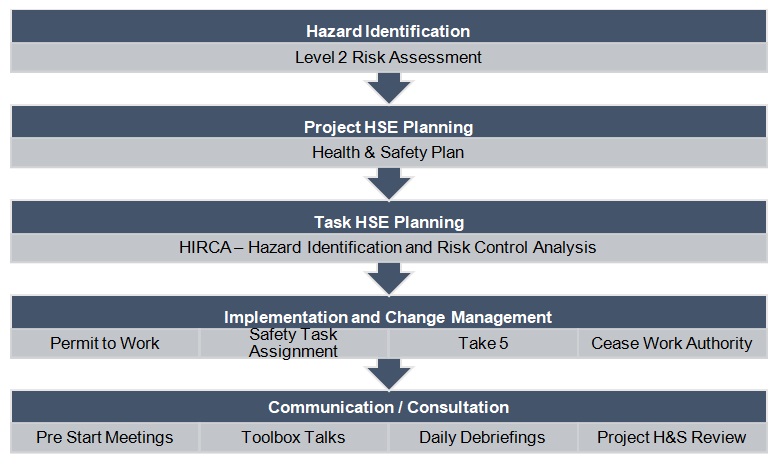 Business ethics and requirements
Employees are the most important component of a business. Business goals and objectives can only be achieved through employee input. That is why all employers are ethically mandated to provide a safe and healthy environment of work for them. With the surfacing of ethical dilemmas in the workplace, it is recommended that the best way to deal with them is to prevent them from arising. However, when this is not possible, then employers have to follow professional ethical considerations when dealing with employees. Employee health and safety at the workplace is therefore an issue of crucial importance to the business and the nation's economy by extension. For this reason, employees form a privileged group that deserves special moral consideration from the company. Workers are constantly exposed to various levels of risks in the workplace.
Employers have a general legal duty to provide a safe and healthy work environment that mitigates the risks faced by employees while they are working. Besides that, they have to ensure open channels of communication that provide information to employees for easier understanding. In addition to legal standards, there are ethical standards that influence the workplace environment. Ethical standards are considered superior to legal standards since they go beyond the minimal requirements of the law. Ethics dictate the "right thing to do" and they act as the moral foundation for standards of conduct. Isabella G. stated in her questionnaire:" Definitely! Where ever the work is being done, there should always be a concern for the safety of the workers, local populations and the environment. And its a good thing that International Financial Institution are making this an obligation in order to loan money for big projects."40
Business ethics are essential in the business environment since it determines the prosperity of the enterprise. Understanding business behavior is the initial stage of business ethical issues. Workers and employers need to have a mutual understanding to ensure the maximization of the profits. The employers need to adhere to the regulations and policies from the government of ensuring a safe and conducive working environment for the workers; this promotes commitment and a good relationship with the government. Social responsibility is also essential in business ethical issues. Workers need to treat their clients with respect and, on the other hand, employers need to treat their staff with respect. The government laws and policies ensure all these business ethical issues get followed to have a harmonious economic development. Workers are not slaves or property of the organization, and the federal government has laws that govern workers' rights. 41
Why a Safe and Healthy Workplace is an Ethical Requirement
Employee health and safety is a crucial area in the labor market. Governments and labor unions are involved in actions to ensure that employees enjoy a high level of health and safety. However, workplace safety and health is also an ethical issue. Ethics dictate what acts are considered right or wrong and ethical conduct is integral for a well-functioning society. One requirement of ethical conduct is for a person to act in a virtuous manner. A virtuous act is one that is done with good intentions or without any vicious motive. This act plays a positive role in human life by encouraging positive qualities. According to Westerholm that it is the ethical obligation of all human beings to "prevent and to eliminate suffering or harm and also to some extent to promote well-being" (E.g. International labor organization)42 Employers act in a virtuous manner when they ensure that their employees work in a safe environment free from harm.
The Kantian Categorical Imperative refers to the moral philosophy which denotes absolute, unconditional requirements that allow no exceptions. It also required and justified as an end in itself, but not as a means to an end.
In his view, Kant asserts that immorality crops when the categorical imperative is not followed. This is due to the persons setting different standards for themselves and then for the rest of humanity. Kant actually relates connects rational thinking and acting with morality, and according to him, contradictory behavior is immoral. With Kant, unlike other great scholarly, he believes morality cannot be taught or learned, it stems from within in a spontaneous manner.
In accordance with the Kantian ethics, it can therefore be stipulated that employers need to morally provide a safe and healthy workplace for employees. They have to do this with fairness, since whatever makes the employer special also makes the employees special too. Therefore, Kantian ethics require people to follow the prescribed rules at all times. In the workplace setting, there are rules that prescribe the type of environment that an employer should maintain. There are laws in place dictating how employers should deal with their employees – for example, the International Labour Organization. Some of these laws state that employers must provide a safe environment free of risk for the workers. One of the leading international bodies in labor rights, the International Labour Organization declares that workers should be protected from "sickness, disease, and injury arising from their employment" (E.g international Labour organization)43 This principle is codified in the national laws of many countries. The employer is therefore required to provide high standards of health and safety in order to be in line with the Kantian perspective. Employers who fail to obey this principle and ensure the safety of their employees can be taken to court and charged with criminal offenses.
Ethical conduct requires business management to take into account the interests of the relevant stakeholders in the company. These stakeholders include the business owners who desire higher profits from their investment. The company's top management is therefore encouraged to engage in activities that will boost productivity. One obvious way of increasing business productivity is ensuring that workers are in the best physical and mental state. Illness and injury decrease the productivity of the workers and therefore impedes business profitability. Guaranteeing the safety and health of workers will result in higher productivity (E.g. OSHA standards)44 This will translate to better performance and higher profits for the business owners.
One of my interview partners (Nick Kock) said (E.g. Interview Nick Kock)45:
Addressing health and safety should not be seen as a regulatory burden: it offers significant opportunities. Ethical benefits can include:
lower employee absence and turnover rates;
fewer accidents;
improved standing among suppliers and partners;
better reputation for corporate responsibility among investors, customers, and communities;
Increased productivity, because employees are healthier, happier, and better motivated.
The employee-employer relationship requires employers to take care of their workers. In addition to providing good wages for the work done, this care also entails providing a safe and healthy workplace. Employers should take measures to ensure that their workers are not exposed to needless or unreasonable risks when engaging in their jobs (E.g citizen's forum)46 some critics argue that the employer is not required to provide health and safety standards to the employees. These critics state that if an employee finds the current health and safety conditions of his/her workplace unsatisfactory, he/she should seek employment elsewhere. This argument is flawed since it assumes that the employee-employer relationship is based solely on the payment of wages for a certain type of labor. Despite this argument, I fully agree with the quote of Christophe Moser who was interviewed by saying:" A wise HSSE system is definitive a debt of the management to the employees, regarding their working conditions and safety."(E.g. Interview Christophe Moser)47
Employers have an ethical obligation to ensure employee safety and health since negligence will have negative consequences. According to consequentialism ethics, the outcome of an action determines its ethical standing. Failing to ensure the workplace will have some significant negative consequences for the employees and employers. Safety programs are costly and some employers may be unwilling to devote the necessary resources for safety. arises acknowledges that compliance with the set standards of safety and health in the workplace can be an expensive affair for the business (E.g. American journal of business) 48 Some businesses, therefore, fail to provide safe and healthful working conditions since there is a small probability that their violation will be discovered.
These unethical actions are likely to result in major negative consequences. When safety is ignored, employees are likely to experience workplace injuries. Some of these injuries result in deaths while non-fatal injuries lead to medical costs. In addition to this, work-related incidents cost significant money due to lost productivity and the wage-earning capacity of the employee. The employer will suffer from legal liability. Arisses reports that in one case in North Carolina, USA, safety negligence by the management in a poultry plant led to legal liability to the company for the loss of an employee's life (E.g. Ariss report)49 The company suffered from heavy losses as penalties were imposed on it by the court. It is therefore important to take action to ensure that the workplace is safe for the employee.
From a utilitarian perspective, the ethical action is the one that provides maximum benefit for the greatest number of people. The Utilitarianism theory discourages selfishness since this will not benefit most people. When the employer is only concerned with his self-interest, he will only choose alternatives that benefit him. This will lead to increased incidences of injuries in the workplace as the organization will seek to promote its material well-being at the expense of employee safety. In the workplace environment, a poor work environment might lead to cost reduction for the employer. However, this will cause numerous hazards to the employees. This will lead to injury and the management might be sued for negligence. The company will lose its reputation due to poor standards of health and safety. This will undoubtedly lead to losses for many people. On the other hand, if ethical conduct is observed, the employer will provide a safe and healthful environment for his workers. The European Agency for Safety and Health declares, "Good safety and health is good for business" (E.g Osha )50The welfare of the workers will be protected and their ability to keep earning will not be impeded upon. Society will also benefit, as it will continue enjoying the services of the business.
The financial benefits
Once established the Health and Safety management system – apart from the ethical obligations there must be a financial benefit for the organization.
Often this is the main issue why an organization doesn't want to implement and maintain such a system and it is hard for an HSE manager to "sell" it to top management and stakeholders. The cost of such a system only pays in case if an incident or crisis can be prevented. However, it is always hard to prove that the HSE system has prevented anything. This system can be slightly compared with an insurance policy. People are angry if they pay for one but never had to use it, reciprocal in case of an accident are delighted that they made the decision to have one in the first place.
Successfully implementing of HSSE System results in financial benefits to the organization. The aspect of risk identification will be easy hence taking precautionary measures before the actual disaster hence saving the damage cost. The managerial team will also identify the recurring problems within the organization hence able to sustain them by developing long-term solutions. The workers in the organization with improved skills will lead to an increase in production and reduction of operation cost hence leading to an increase in profit. HSSE ensures consistency of the organization leading to stabilization of the organization operations.
NEBOSH training manual refers to the following points of the profitability of an HSSE management system:
Reduce loss through damage and injury
Reduce absenteeism
Reduce insurance premiums
Improve company reputation (this can have a positive impact on future contracts)
Reduction litigation/legal costs, fines, compensations 51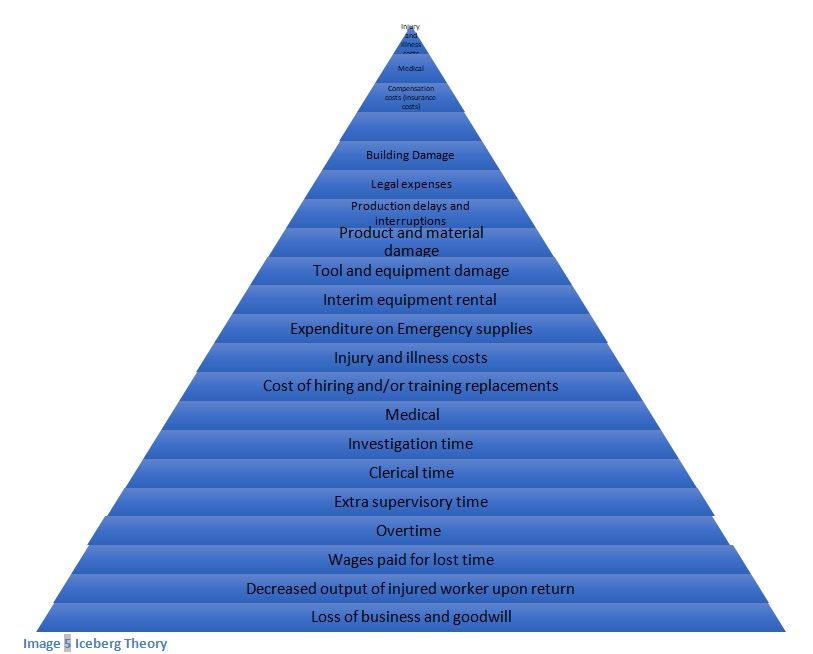 The Canadian center for occupational health and safety refers to the accident iceberg theory what shows the hidden costs of an incident, accident, or crises that could have been prevented if an adequate HSSE management system would have been in place:52
A good example was found written by Nick Higginson from web-safety.com in one of his presentations.53
HSE example:
Facts:

Small engineering firm (15 workers)
Workers sleeve caught on rotating drill
Both bones in the lower arm broken
12 days in the hospital
Off work for 3 months
Admin duties for 5 months
Unable to operate machinery for 8 months
Managing Director Prosecuted
2 employees made redundant to prevent the company from going out of business
Wages for an injured worker over a period = 10.000$
Lost production/remedial work required = 8000$
Overtime wages to cover lost production = 3000$
Wages for replacement worker = 7000$
Loss of time of manager = 4000$
Legal expenses = 3000$
Fines and court costs = 4000$
Increased in insurance premiums = 6000$
Overall: 45000$
According to UK´s Health and Safety executives (E.g. HSE executives)54 who summaries the total costs of work-related injuries stated the following figures:

In the above table, the column of cost bearer indicates the stakeholders who incur the cost related to work injuries, i.e. individual employees, employers, and the government. The second period represents the time period those costs were incurred. Then the third column represents the estimated cost, with the measures of central tendency applied while the final column represents the total cost. With the Consumer Index (C.I), we have the lower and upper limits for which in essence when averaged represents the central value in the immediate left column.
These figures when postulated like this provide the necessary statistical evidence that relates to workplace injuries and the costs that are hence incurred.
As seen in the above mention theory's, cases and studies it is shown that without maintaining or implementing an HSE system a company is exposed to the risk of uninsured costs, loss of reputation, and unforeseeable crisis situations.
Nick Kock the HSSE corporate manager had the following statement to the question of how an organization can benefit financially when implementing HSE.
Increased Profitability
Research conducted by OSHA showed conclusively that employers who establish employee safety programs are able to reduce costs related to injury and workplace illness costs by 20 to 40 percent. These reductions bring immediate return on investment in the form of increased profitability.
Productivity and Savings
Safe workplaces provide significant value to employers through increased employee productivity and customer satisfaction.
Intangible Returns
Employers that enforce safety regulations provide safety training and education and provide occupational health programs create a workplace environment in which employees feel safe to come to work. These programs also create an environment of employee loyalty. Safe work environments allow employees to concentrate on their jobs increasing productivity and overall business profitability. Effective employee safety programs provide a means for businesses to comply with state and federal regulatory requirements, reducing the concern over exposure to fines and legal sanctions.
Footnotes
Web.
Web.
Ali H. Mokdad, James S. Marks, Donna F. Stroup, and Julie L. Gerberding, "Actual causes of death in the United States, 2000," JAMA: the journal of the American Medical Association 291, no. 10 (2004): 1239.
Web.
Web.
Ray C. Asfahl and David W. Rieske, Industrial safety and health management, (New Jersey: Prentice-Hall, 2010), 14-42.
Web.
Web.
Web.
Web.
Web.
Web.
Web.
Web.
Web.
Connaught Nebosh workbook (unit1 Management of health and safety) page 28.
Web.
Web.
Edward P. Borodzicz, Risk, crisis, and security management, (New York: John Wiley & Sons, 2007), 151.
Risk and security management by Michael Blyth 2008 – Chapter 5 P.159.
Web.
Web.
Web.
Web.
Web.
Web.
Web.
Steven L. Sauter, W. S. Brightwell, M. J. Colligan, J. J. Hurrell, T. M. Katz, D. E. LeGrande, Nancy Lessin, et al. "The changing organization of work and the safety and health of working people." Cincinnati: National Institute for Occupational Safety and Health (2002): 12.
Interview with Isabella G: – interview in Annex.
Web.
Interview Andreas Hartinger (ANNEX).
Web.
Connaught Nebosh workbook (unit1 Management of health and safety) page 36.
Winning – Jack Welch.
Web.
Web.
Web.
Web.
Web.
Interview Isabella G. (see ANNEX).
Odies C. Ferrell, John Fraedrich, and Linda Ferrell. Business ethics: Ethical decision making and cases, (Mason: CengageBrain. com, 2012), 55.
Web.
Web.
Web.
Nick Kock Interview.
Web.
Christoph Moser Interview.
Web.
Web.
Web.
Nebosh training manual page 11 chapter 1.
Web.
Web.
Web.