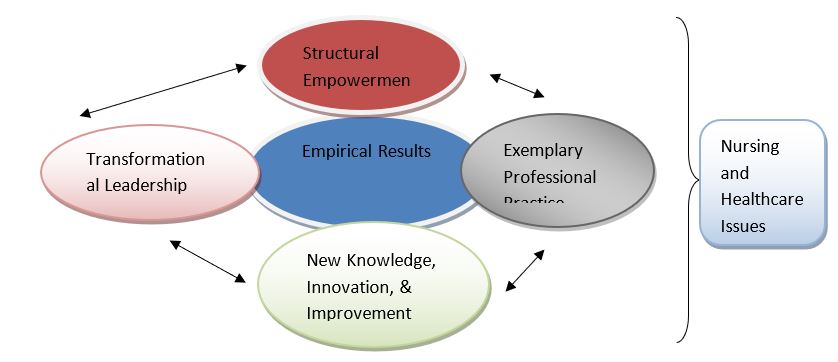 The five model components and the Forces of Magnetism guide organizations and nurses to attain solve nursing issues, fix nursing processes and empower nurses while focusing on stabilization (American Nurses Credentialing Center, 2008). Further, these elements relate to empirical practice-based research (Messmer & Turkel, 2011), professional development (Cooper, 2009; Covell & Sidani, 2013) and innovation among others (Jost & Rich, 2010).
Transformational Leadership
This component reflects significant experience and competency in nursing professional practice. Leaders understand both current needs and potential future needs while motivate and challenge nurse staff to attain new goals.
Forces of Magnetism associated with Transformational Leadership
Nurse leadership quality
Management style
Nurse policies and programs
Consultation and resources
Autonomy
Nurse as educator
Image of nursing
Nurse professional development
Multidisciplinary relationship
Most of these forces are derived from evidence-based practices of leadership (Johansson, Fogelberg-Dahm, & Wadensten, 2010). A nurse who runs affairs at a given department could be an example of a transformational leader when they possess the right attributes of transformational leadership. Further, nurse leaders also become transformational leaders when they advocate for change, nurse education and patient safety.
Structural Empowerment
This component promotes teamwork for the benefit of the entire organization.
Forces of Magnetism associated with Structural Empowerment
Organizational structure
Nursing policies and programs
Nursing professional care model
Consultation and resources
Autonomy
Community and healthcare organizations
Nurse as educator
Nursing image
Multidisciplinary relationship
Organizational structure defines the relationship among various stakeholders. Regular meetings can enhance relationships among stakeholders. Nurses can also collaborate and share resources to improve care quality.
Exemplary Professional Practice
The third component focuses on collaboration and teamwork between nurses to deliver quality care gauged by standard nursing assessment tools.
Nursing professional care models
Quality of care
Nursing quality improvement
Nurse autonomy
Collaboration and resources
Community and healthcare organizations
Nurse as educator
Nursing image
Nurse professional development
Interdisciplinary relationship
Nurses should provide high quality care while focusing on ongoing quality improvement efforts. Nurses, for instance, reflect their autonomy in decision-making and being resourceful as educators. Nurses who are members of various professional organizations and work together to develop new standards to improve quality of care display this component.
New Knowledge, Innovation, and Improvement
The fourth element of magnetism requires organizations to initiate, take action, and publish new methods of delivery care to demonstrate new best practices.
Quality of care
Improvement on quality of care
Nurse management style
Nursing image
Nurse professional care models
Interdisciplinary relationships
Nurse professional development
This component generally focuses on evidence-based practices. Nurses who attend training and development services to share knowledge on best practices and implement new evidence from nurse studies reflect this component of magnetism.
Empirical Quality Results
The last component of magnetism requires new knowledge to relate to critical aspects such as nursing, patients, workforce, consumers, and organizations. These results should be obtained from nursing best practices.
Personnel policies and programs
Quality improvement
Quality of care
Community and healthcare organizations
Nurse as teacher
Nursing image
Nurse leaders should support the development and adoption of empirical results to support best practices. First, nurses can obtain relevant empirical evidence to improve their practices. Second, nurses can use data for comparison purposes to track patient outcomes.
References
American Nurses Credentialing Center. (2008). A New Model for ANCC's Magnet Recognition Program. Web.
Cooper, E. (2009). Creating a Culture of Professional Development: A Milestone Pathway Tool for Registered Nurses. Journal of Continuing Education in Nursing, 40(11), 501-8. Web.
Covell, C. L., & Sidani, S. (2013). Nursing Intellectual Capital Theory: Implications for Research and Practice. OJIN: The Online Journal of Issues in Nursing, 18(2), Manuscript 2. Web.
Johansson, B., Fogelberg-Dahm, M., & Wadensten, B. (2010). Evidence-based practice: the importance of education and leadership. Journal of Nursing Management, 18, 70–77. Web.
Jost, S. G., & Rich, V. L. (2010). Transformation of a Nursing Culture Through Actualization of a Nursing Professional Practice Model. Nursing Administration Quarterly, 34(1), 30- 40.
Messmer, P. R., & Turkel, M. C. (2011). Magnetism and the Nursing Workforce. Annual Review of Nursing Research, 28, 233-252. Web.