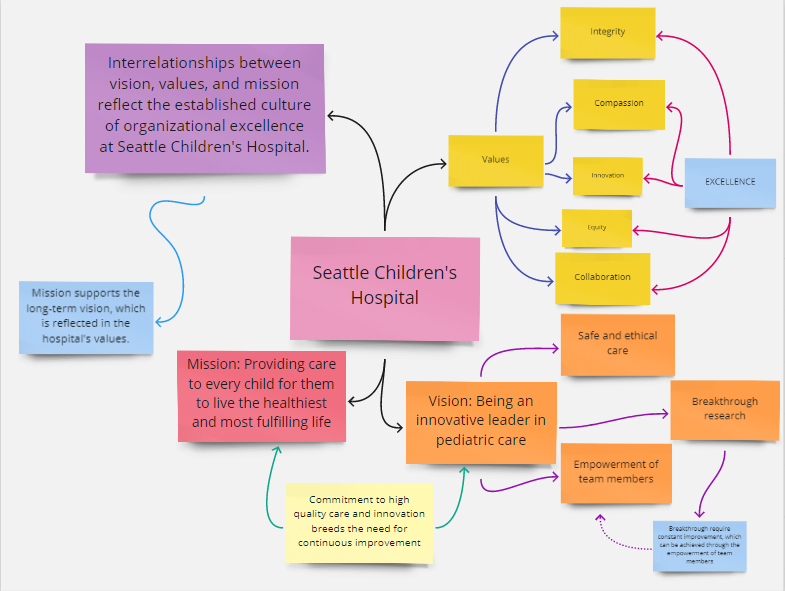 Introduction
Pursuing a culture of excellence (CE) is exceptionally important in the healthcare industry since it facilitates continuous improvement. Establishing a culture of excellence in the medical environment empowers staff to deliver high-quality care, which is both reliable and safe (Fitzgerald, 2019). Continuous improvement is crucial for healthcare providers that face numerous challenges, including ongoing cost containment, difficulties of innovation, as well as issues concerning the communication of organizational objectives (Fitzgerald, 2019). Therefore, the deployment of improvement strategies engages medical staff and develops an efficient methodology for coordinating refinement activities. A culture of excellence addresses the most common obstacles healthcare providers face on a day-to-day basis by focusing on the practices for the enhancement of the quality of care, which results in better patient outcomes.
When discussing the significance of a culture of excellence, it is important to mention the organizational culture and mission, vision, and values of an organization, in particular. Mission and vision statements help a company to communicate its purpose and values to key stakeholders, which include employees, partners, investors, and patients (in the healthcare industry) (MacLead, 2016). In addition, establishing a set of distinct values, a clear mission, and a long-term vision of an organization helps in the goal-setting process. Management can engage in strategic planning more effectively if one of the criteria is how well an objective helps the company pursue its mission (MacLead, 2016). The purpose of the paper is to examine the importance of a culture of excellence in nursing practice and identify the elements that guide it. The paper includes sections explaining the concept of a culture of excellence, interrelationships between mission, vision, values, and a culture of excellence, as well as leadership strategies that help to promote the culture.
Culture of Excellence
Establishing a culture of excellence in a business setting means finding the most efficient way to fulfill the mission and vision of an organization. Thus, the culture of excellence needs to be people-oriented to empower employees to commit to continuous improvement and be flexible to accept changes (Suciu, 2017). When it comes to the culture of excellence, there is a sense of ownership among teams, which is why every member feels like a stakeholder. One of the most important characteristics of the excellence culture is shared vision, goals, and ethics. Another essential aspect is the encouragement of innovation and creativity, which, in turn, fosters continuous improvement. In addition, commitment to excellence in the fulfillment of the mission, as well as mutual support of each other's success, are two of the other characteristics of the culture of excellence in an organization.
In terms of the CE's significance in pediatric nursing, it is important to acknowledge that establishing continuous improvement practices fosters innovation within an organization. In turn, innovation is needed to successfully battle the ongoing challenges in child healthcare (Taitz, 2015). Doctors, nurses, and other medical professionals involved in pediatrics have to familiarize themselves with the latest evidence-based practices, which often test their ability to deal with technologically advanced treatments (Taitz, 2015). Moreover, medical staff has to maintain a balance between innovation and the safety of pediatric care.
Overview of the Concept Map
Seattle Children's Hospital (n.d.) prides itself in its mission to provide care to every child so that they could live the healthiest and most fulfilling lives. The vision of the medical center is to become the nation's most innovative hospital specializing in pediatric care (Seattle Children's Hospital, n.d.). As for the hospital's values, it emphasizes the significance of compassion, integrity, equity, collaboration, and innovation in its operations (Seattle Children's Hospital, n.d.). The existing mission, values, and mission reflect onto one another. For example, the Seattle Children's Hospital's vision of innovation ties into its set of values perfectly (collaboration=partners in advanced technologies and new treatments, innovation=fostering new approaches to care). Moreover, the hospital's commitment to compassion and integrity in its practice is an extension of the organization's global mission of making every child happy through high-quality care. Interrelationships between the hospital's mission, vision, and values demonstrate the level of integration of excellence culture into its operations. The Seattle Children's Hospital's mission and vision are supported by its values, all of which emphasize the pediatric center's determination to improve and strive for excellence.
Leading a Culture of Excellence
The two leadership strategies that could be applied to Seattle Children's Hospital are the facilitation of open communication channels between employees as well as the incorporation of tools for accountability/recognition. To communicate organizational objectives at the unit level, Seattle Children's Hospital could implement staff meetings and other venues for information sharing, including "unit councils, newsletters, emails, texting groups, one-on-one meetings, performance evaluations, and communication trees" (Medeiros, 2020, p. 7). The success of a strategic plan of Seattle Children's Hospital depends on the commitment from workers, which can be influenced through the system of disciplinary measures and practices for celebrating certain milestones. When leaders fail to hold their subordinates accountable or forget to recognize their success, workers become less productive and performance suffers. Chamberlain Care Model emphasizes the importance of starting at the top and setting a vision, which is why the first strategy reflects the Model by providing leaders with the tools to communicate mission, vision, values, and goals. The second strategy focuses on colleague engagement, which is another important aspect of Chamberlain Care.
Conclusion
To sum it up, a culture of excellence is crucial to any healthcare provider that wants to deliver high-quality care to patients. In pediatrics, continuous improvement is needed to implement the latest evidence-based practices and save children's lives with innovative treatments. Some of the leadership strategies that support the establishment of CE are the facilitation of open communication with the goal of information sharing as well as the coordination of accountability/recognition tools to keep employees engaged. Seattle Children's Hospital's vision of being an innovative leader in pediatric care ties perfectly into its mission (quality care for every child is impossible without technological advancements), both of which are supported by the organization's values, including coordination, integrity, and equity. I have discovered the importance of recognition and accountability patterns as a crucial aspect of an effective leadership strategy to discipline staff and ensure high employee performance. As for the implications for future advanced pediatric nursing practices, it is apparent that every healthcare organization needs to adopt a culture of excellence in order to ensure the quality of care for children is improving in accordance with the technological advancements in the medical field.
References
Fitzgerald, J. E. F. (2019). Creating a culture of excellence: How healthcare leaders can build and sustain continuous improvement. KPMG International. Web.
MacLead, L. (2016). Aligning mission, vision, and values: The nurse leader's role. Nurse Leader, 14(6), 438-441. Web.
Medeiros, M. (2020). Cultivate a culture of excellence at the point of care. Nursing Management, 51(5), 7-9. Web.
Seattle Children's Hospital (n.d.). Our mission, vision and values. Web.
Suciu, M. (2017). The culture of excellence. Challenges and opportunities during changing times. Proceedings of the International Conference on Business Excellence, 11(1). Web.
Taitz, J. (2015). Building a culture of safety in pediatrics and child health. Current Treatment Options in Pediatrics, 1, 253-265. Web.
Video Voice-over