Introduction
Advanced Practice Nurse intervention is an essential tool in evaluating and assessing clinical problems with an application of nurse care. The primary purpose of the given APN pilot project is to overview and analyze the methodologies and approaches of cardiovascular diseases. Chronic heart failure (CHF) is today one of the most urgent medical and social problems of cardiology, clinical medicine, and the health care system worldwide. This is due to the widespread and constant increase in the number of patients with this pathological condition. The reasons for this unfavorable trend are the aging of the population, the high prevalence of arterial hypertension, coronary heart disease, and other diseases that are complicated at certain stages of heart failure. Achievements of modern cardiology are also of great importance in expanding the cohort of patients with heart failure, in particular, the interventional methods of treatment of patients with acute coronary syndrome and myocardial infarction. These approaches are being used, which, along with constantly improving evidence-based practice pharmacological therapy significantly reduced the mortality rates of patients from acute cardiovascular diseases and, accordingly, proportionally increased the percentage of patients with chronic forms of cardiac pathology.
Identification
The given program can be considered as a semi-education and practical intervention due to its overall complexity. It shows that Ignoring the non-drug methods of controlling heart failure makes it difficult to achieve ultimate success and reduces the effectiveness of therapeutic drug effects (Hannan, Brooten, Page, Galindo, & Torres, 2016). The target group will be adults with a high risk of cardiovascular diseases with a time frame of one to five years because chronic heart failures tend to reoccur.
CHF, like any other chronic disease, requires constant observation and modification in many ways: lifestyle changes, consistent use of selected medications, self-monitoring, and self-help (Tillman, Kim, Makhlouf, & Osae, 2019). The main methodology includes educating patients about the nature of their disease and its main symptoms because the ability to control them is the key to successful treatment. The reason is that timely detection of signs of deterioration, fluid retention, adverse changes in blood pressure and heart rate, cardiac arrhythmias, and their appropriate correction in many cases can prevent hospitalization and death of the sick (Walker & Cubbon, 2015). Informing patients about situations that they can handle on their own, and cases when you need to consult a doctor immediately is also necessary.
Objectives and Goals
The primary goal of the given program is to assess and design an effective method to eliminate or reduce the overall risk of second heart failure. The reoccurrence is likely, which makes the patient possess CHF issues. Thus, the short-term objective is assisting and guiding people, who are already suffering from chronic symptoms, because most of them might not fully comprehend the seriousness of the problem and the potential risk. However, the long-term goals are mostly focused on the educational part and preventative measures, which are designed to inform and motivate people to become more responsible for their health and well-being.
One of the reasons for the insufficient treatment and rehabilitation of patients with heart failure is that the existing recommendations for treatment in real life are not implemented due to the low compliance of patients with the prescribed therapeutic regimen, and the lack of proper implementation of medical recommendations regarding diet and lifestyle (Tillman et al., 2019). It is believed that teaching patients the skills of self-control and self-help, the scrupulous use of proven treatment methods can prevent a significant portion of hospitalizations and deaths of patients with heart failure (Hannan et al., 2016). Thus, according to a systematic review of 19 randomized controlled trials, including 2686 patients, in 15 tests, a significant positive effect of patient education on CHF was found (Vongmany, Hickman, Lewis, Newton, & Phillips, 2016). Recently, special attention has been paid to the organization of schools for patients with chronic heart failure (Mamier, Taylor, & Winslow, 2019). The education of the patient and his/her immediate family is a fundamental problem.
Target Group
The main target group is people with an increased likelihood of possessing CHF, which usually gets more dangerous with each reoccurrence. The general location of the program will be placed at Miami hospitals, where the patient with first heart failure or with a high risk of HF can be taken outstanding care of. The population will mostly include older adults and people with inclinations towards an unhealthy lifestyle.
The primary operating functional unit will be an APN, who will coordinate his or her actions with other nurses in order to combine both practical and informative parts of the program. Several studies indicate the undoubted importance of a nurse in the management of patients with cardiovascular diseases, in particular with hypertension (Vongmany et al., 2016). Studies emphasize the importance of the activities of nurses not only to improve control of blood pressure (BP) but also to mitigate the effect of "white coat hypertension" (Walker & Cubbon, 2015). An important role in achieving the target level of blood pressure is played by home visits of nurses (Chen & Hsu, 2015). Most aspects of reducing the risk of hypertension do not require a medical examination, and blood pressure can be measured at home. Thus, most of the observation of patients with hypertension can be achieved outside of medical organizations with the participation of nurses. In a number of studies published from 2005 to 2013, target blood pressure values ​​were more often completed when the list of activities included the participation of nurses in monitoring patients by telephone (Chen & Hsu, 2015).
Budget and Evaluation
It is important to note that the overall budget will depend on the hospital size and the availability of APNs and other nurses. However, it is expected that the educational and informative segments will be cheaper than actual practical sections due to the amount of work needed with CHF patients. The pie chart below (Figure 1.) shows the specific budget of the program designed to last for six months.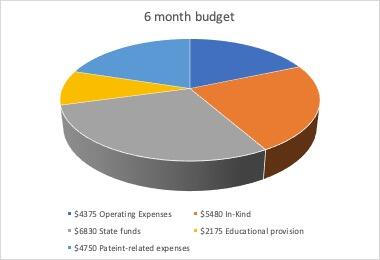 The evaluation system will be mostly conducted through surveys and questionnaires, where the weighted amount will be assessed. In the diagram below (Figure 2.), the basic principle of the program evaluation plan is demonstrated.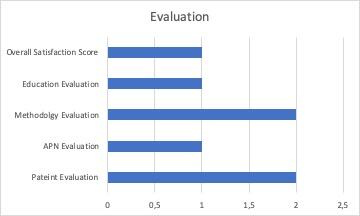 Despite the achievements of modern clinical medicine and the current healthcare system, mortality rates from heart failure remain high even in states with a well-functioning system of medical care for patients with cardiovascular diseases. The improvement of medical care for patients with heart failure can be achieved by transferring this category of patients under the supervision of nurses with advanced clinical training and with higher specialized education. To date, patients with heart failure do not have appropriate guidance and care, as general practitioners, cardiologists leading these patients have large loads, which prevents an individual approach to each patient, and secondly, the competent doctors mainly rely on the pharmacological treatment of patients, often ignoring for various reasons the non-drug components of treatment and rehabilitation. Just this area of ​​patient care is the responsibility of a nurse, and with proper organization of supervision and care, you can achieve significant improvement in both the physical and socio-psychological state of patients with heart failure.
Review of Literature
The condition of patients with heart failure can be monitored, and improved quality of life can be achieved with constant monitoring and support from a trained nurse. As you know, the problems of patients with heart failure are often due to low adherence to treatment, which is recorded in 18.3% of patients and reaches 50.9% in the elderly (Chen & Hsu, 2015). In the worsening prognosis of patients with heart failure, a number of modifiable risk factors are important that can be influenced in terms of controlling the disease and achieving a stable patient condition. Achieving these goals is possible if the patient himself is actively involved in the healing process. For motivated participation in treatment and rehabilitation programs, the patient must have certain knowledge about his/her disease, which is achieved by the methods of his/her education.
The need for patient education and further monitoring for the purpose of consciously maintaining the principles of treatment and rehabilitation for patients, including non-drug methods of treatment, is also due to the fact that patients with chronic diseases, including CHF, often improve treatment interruption and do not follow the doctor's recommendations. A number of studies show that greater patient awareness of their illness, training in self-monitoring and self-help skills, and an increase in their adherence to treatment, significantly improve the course and prognosis of heart failure (Mamier et al., 2019). Thus, according to a systematic review of various studies, which included 7413 patients with CHF (Chen & Hsu, 2015), patient education improved self-control skills, knowledge about the disease, increased adherence to treatment, and reduced hospitalization.
Due to the fact that the training methods, the materials used, the duration, and the results of the studies differ, it is quite difficult to identify the most effective means of teaching patients with heart failure. The results of studies generally confirm the effectiveness of continuous monitoring of patients with heart failure with the goal of constant conscious implementation by patients of all the recommendations of a medical professional (Mamier et al., 2019). The peculiarities of work are that today there are no scientific studies dedicated to determining the role and place of a nurse with higher education in monitoring and caring for patients with chronic diseases, including chronic heart failure. This was due to the fact that the work was carried out on an initiative basis, without special funding, and, accordingly, the research team was small, and its capabilities were limited. To obtain more reliable results, healthcare specialists should intend to continue the work in the future with a change in the design of the study.
Conclusion
In conclusion, in order to achieve effective rehabilitation and improve the quality of life of patients with heart failure, to re-adapt them in the family, in society, an important link in the management of these patients is nursing supervision. Perhaps for this category of chronic patients with an established diagnosis, standard treatment protocols, nursing care, and observation are even more important than the supervision of a doctor. This is especially true where the mentality of the indigenous population is characterized by low compliance, the well-established traditional nature of nutrition, and lifestyle features that do not involve active physical education. All this determines the neglect of the non-drug component of treatment and rehabilitation and, accordingly, the low effectiveness of the monitoring and treatment programs for patients with heart failure. Active patient education, constant monitoring, and observation, psychological support from health care providers are necessary.
References
Chen, S. Y., & Hsu, H. C. (2015). Nurses' reflections on good nurse traits: Implications for improving care quality. Nursing Ethics, 22(7), 790-802.
Hannan, J., Brooten, D., Page, T., Galindo, A., & Torres, M. (2016). Low-income first-time mothers: Effects of APN follow-up using mobile technology on maternal and infant outcomes. Global Pediatric Health, 1(2), 3-24.
Mamier, I., Taylor, E. J., & Winslow, B. W. (2019). Nurse spiritual care: Prevalence and correlates. Western Journal of Nursing Research, 41(4), 537-554.
Tillman, F., Kim, J., Makhlouf, T., & Osae, L. (2019). A comprehensive review of chronic heart failure pharmacotherapy treatment approaches in African Americans. Therapeutic Advances in Cardiovascular Disease, 22(4), 43-65.
Vongmany, J., Hickman, L. D., Lewis, J., Newton, P. J., & Phillips, J. L. (2016). Anxiety in chronic heart failure and the risk of increased hospitalisations and mortality: A systematic review. European Journal of Cardiovascular Nursing, 15(7), 478-485.
Walker, A. M., & Cubbon, R. M. (2015). Sudden cardiac death in patients with diabetes mellitus and chronic heart failure. Diabetes and Vascular Disease Research, 12(4), 228-233.